If you are seeking a spiritual director or would like more information on spiritual direction, I would be happy to speak to you. I work with a small number of people in the St. Louis area who desire to have a companion for their spiritual journey. I am also available for spiritual direction via Skype for those at a distance. For more information, write to me at: givenscreative@gmail.com.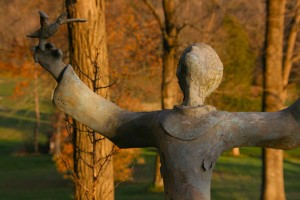 Below is some information about my approach to spiritual direction:
Three chairs in the room: Sacred space, time and presence
I approach the ministry of spiritual direction with one overarching and authentic vision — that there are always three persons present when I meet with an individual seeking direction, with God's Holy Spirit occupying the third and unseen chair in the room. This vision, beyond all else that I bring to this ministry, encompasses and illustrates my belief that the act of spiritual guidance is a sacred one, a sacramental sign of God's presence and action in our lives. This belief is what separates spiritual direction from other helpful and often necessary forms of one-on-one interaction, such as counseling and psychotherapy. In short, God is the true spiritual director and leads my time with a directee. I am far more a companion than I am a director.
As we enter into the sacred relationship of spiritual direction, here are some of the ideas and beliefs that will guide our work together:
Don't be misled by the term "spiritual director," for I will not be directing your spiritual journey. But I will accompany you, listen to you, and be a trusted companion as you seek to make your way toward a more mature relationship with God. I won't generally play the role of teacher for you, but I am willing to work with you to help clarify your questions about God and God's Church and guide you to resources that might begin to answer them for you.
I want you to know that I am a spiritual director not because I have it all figured out but rather because I sense a deep calling to walk with others as they move toward a closer relationship with God, even as I continue to do the same. And while I may from time to time share a small piece of my own story with you, it won't be because I have all the answers. Rather, it will be to remind you that we are kindred spirits, companions on a journey toward God. It is my hope and prayer that I will always be a source of encouragement and light for you, especially during times of confusion, pain or loss. My prayer is that I will always guide you toward Jesus.
I believe there are always three persons present when we meet, with God occupying the third and unseen chair in the room. I will pay close attention to what resonates in me as you speak, for that, I believe, is the movement and nudging of God. I believe God leads our time together.
I will respect and never doubt or try to explain (or explain away) your experiences of God or God's movement in your life, but I will always try to help you describe and understand them on a deeper level. I will try to guide you toward a mature, more intimate understanding of God, who I believe desires a close relationship with you. I will encourage you to question and look beyond the images and understandings of God that have been ingrained in you over time.
I will encourage your growing awareness of the presence and movement of God in all aspects of your life, for all the facets and parts of your life show signs of God's presence and are therefore "grist for the mill" of our time together.
I will always pay close attention to what you say, for your story is sacred to you and therefore to me. I will listen far more than I will talk, and I will gently push you to dig deeper, explore further, describe more fully and remember with more detail your experiences of God. I will remain open to — and listen and watch for — the signs of God's movement in your life and encourage you to do the same. My listening to you is akin to my own life of contemplative prayer, and I will listen to you as I listen for God.
Wherever we meet, I will seek to create a space that reflects the importance of this sacred conversation and time in which we are engaged. I promise to ensure the confidentiality of everything we discuss and of the very fact that we meet.
Over time, after you and I both have a better understanding of your story and desire for spiritual growth, I will guide you to discern for yourself what your story and your desires mean and what is God's purpose for you and your life. I will help you explore what things in your life are "of God" or "not of God," but I will never tell you what I think the answers are, for this is your gift to discover. Your experiences of God will never be the same as mine.
I will pray for you, before, during and after our time together. I am open to praying with you during our meeting, if you desire. But please know that I believe that our time together — both our words and our silences — is, in fact, prayer.
You have the freedom, always, to challenge me if I say something during spiritual direction that bothers you, and you can tell me if you believe our relationship is not working as you had hoped. You don't have to explain why and I will not take your decision personally. If you wish, I will help you find another spiritual director who better meets your needs and expectations.
I believe, as Pierre Teilhard de Chardin once wrote, in the "slow work of God," and will encourage you to nurture a willingness to open yourself to a life of awareness and paying close attention as you wait patiently for God's response to your life of prayer. I know from my own experience that this is not easy work, but I am here to walk with you.
Is there a fee for spiritual direction?
Generally, yes. But I approach this ministry from a position of abundancy. This means I have been given much and try to leave myself open to meeting the needs of others. I see people who cannot afford to pay anything, and I see others who can. I ask you to share from your own abundance if you can. The going rate in the St. Louis area for spiritual direction is between $25 and $50 per session. I ask you to prayerfully consider what you can afford, knowing that you are also helping me continue to see those who can afford little or nothing.
I love what Henri Nouwen had to say about this notion. He wrote, in Bread for the Journey: "With an abundancy mentality we say:  'There is enough for everyone, more than enough:  food, knowledge, love … everything.' With this mind-set we give away whatever we have, to whomever we meet. When we see hungry people we give them food. When we meet ignorant people we share our knowledge; when we encounter people in need of love, we offer them friendship and affection and hospitality and introduce them to our family and friends. When we live with this mind-set, we will see the miracle that what we give away multiplies:  food, knowledge, love … everything. There will even be many leftovers."