Embraced by God: Facing Chemotherapy with Faith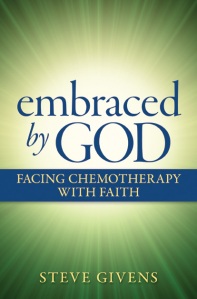 Embraced by God: Facing Chemotherapy with Faith was released in March 2010 by Twenty-Third Publications, based on my experiences being treated by chemotherapy for a rare blood disease called Langerhan's Cell Histiocytosis. Below is an excerpt from the book's introduction.
Introduction: That One Word
If you can see the path laid out before you,
You are on somebody else's path.
–Joseph Campbell
The moment when I got the news from my oncologist is one of those moments etched in time. If you've ever received similar news (which is very probable since you're reading this) you know what I mean. The words tumbled out of her mouth ever so cinematically and slowly. I think I only heard bits and pieces at first…
Blood disease…very rare…we'll need to be some research…run a few more tests…don't know for sure what the…
And then it all hit home with the utterance of one word: chemotherapy. Everything snapped into focus. I KNEW what that meant. Or at least I thought I did. A million thoughts flooded my mind in a matter of seconds. How would my life be changed? How would I change? Was I on a fast course toward an early death at 47? Would I get sick, lose my hair, miss time at work? Would I die, or would this be a blip on the radar screen of my life? Was this "one of those things" that so many people go through and come out the other end whole and better and changed? What would I tell my wife and kids? Those were the questions I asked myself in a brief moment sitting on the examination table in an ill-fitting gown.
That one moment – and that one word — was the beginning of a new chapter in my life, to be sure, and one that would change me in many ways. For now, a couple of years and two rounds of chemotherapy later, that change has been mostly positive and life-affirming. It hasn't come without its challenges, of course. There have been times of pain, sickness, confusion and sadness. But it has also been a time of renewal and re-birth spiritually, and that's the reason I decided to write this book.
Admittedly, my journey through this disease and its treatment, which is often worse than the disease itself, has not been as devastating for me as it so often is for others. Perhaps that's the biggest blessing of all, for although many have a story to tell, they are not always able to do so because of the toll their disease has taken on them. So while I can't compare my experience to those who have fought more aggressive diseases such as cancer or leukemia, I at least have an inkling of what they have gone through. And I know that my own journey is not yet over. I've already had one period of remission followed by a recurrence, and I know this disease will never fully go away.
I think a brotherhood and sisterhood exists between those who have undergone chemotherapy. We are kin, of sorts, those of us who have sat in the recliner or laid in the bed while toxic chemicals were injected into our bodies to try and save us or give us a little more time. We know each other's pain and numbness and exhaustion. We smile at each other when we meet in the hallways or while blood is drawn because we can relate and because we know.
Many people have asked how I "coped" with it all. My first answer sounds a bit smug but it's truthful: I coped because I had no choice. One day I thought I was basically healthy and the next someone was scheduling my chemotherapy treatments. This is now just part of my life, as it is part of yours. We accept it as we do a new family member.
But "how" we accept it all is up to us, and I have chosen the way of faith and God because I know of no other way that brings peace and gives me a reason to go on. I know that not everyone shares this view of life and eternity, and I respect that view even as I can't imagine it for myself, especially as I grapple with issues of life and death.
So I have opted to embrace my disease and its treatment because I really have no other choice. But I have chosen, as a matter of faith and survival, to not embrace it alone because my arms are not big enough or strong enough for the battle. But as I hope you will see in the pages that follow, the arms of my God are big enough to encircle both me and the disease that is attacking me. Whatever the outcome, I have decided to live (and someday to die, as we all must) held in the arms of God. I can't think of a better way.
What others are saying about "Embraced by God: Facing Chemotherapy with Faith":
I love that it's intelligent yet accessible; wholly honest yet deeply hopeful. The "name 5 things" and "ask yourself" parts are provocative, which makes the book interactive, and your writing is beautiful.
I receive a lot of books from friends who want me to look them over, and yours is one that I am sincerely glad to have received. One thing I really appreciate about it is that it can be read in bite-size pieces, sweetening my day.
- Lori Hope (author of "Help Me Live: 20 Things People with Cancer Want You to Know")
…captivating and well written.  If you or any one close has ever battled the demon of cancer you can relate to and get much support and inspiration from this book.
- Buddy Sohl, WLCR Radio, Louisville
I've read your book twice already and got even more out of it the second time. I think it's a must read for anyone going through a health related problem and even more so for those who have someone with a health problem.
You touched on many of the emotions and fears I felt while going through my treatments. I could put my self in many of the places you were and still are. You are very right when you state that we become brothers and sisters in the fight we are going through.
Thank you so much for the book. It's an inspiration!
- Jim Davis (cancer survivor)
I honestly benefitted from reading your book and intend to share it with others, both those who've experienced cancer and those who haven't, because your book reaches both audiences. Certainly it's direct to those who've faced, and may face, what you have. But it's also a reminder for the rest of us, not just that we may have to undergo chemotherapy but that we can't stop being Christians no matter what affects us.
Your book reminds us that we're called to be Christians because of and in spite of the setbacks that health and other problems present. You emphasize the need to work out anger and frustration but never to stop believing that a loving God will always be with us, and that cancer may be a way for Him to draw us closer. You mix sorrow and humor as well as the blahs that I'm sure people go through. Overall, you wrote the kind of faith-based book on dealing with chemo that should have been written, something that offers sober reflection but a lot of hope.
–Jim Rygelski (journalist and former editor, St. Louis Review)
I have never physically met Steve Givens but we have been friends for the past eight years. I am always awakened by his daily reflections in Living Faith, so one day I sent him an e-mail and we have corresponded ever since. I must confess I had a pre-conceived idea when I picked up his latest book, Embraced by God, Facing Chemotherapy With Faith. I need not read this book, since except for a few maintenance items, which come with age I enjoy good health. Once again my silliness came to the surface-my lack of accepting the Holy Spirit and her knowing what I need and what is best for me.
Steve's book is a book about faith and how a person who is ill or finds him or her self with an unexpected illness traveling the unexpected turns in one's life. It is a book I have needed for sometime.  Perhaps when my father had heart failure and tension developed between us we would have used different methods to deal with our fears and anxieties. Or when my seemingly, perfectly healthy wife was diagnosed with Sarcoidosis, or my three year old grand-daughter was diagnosed with "Frequent Fever Syndrome" I would have had more spiritual tools to work with if the book was available then.
As I read Embraced by God, (in fact I could not put this one down) I realized it is a book for all of us. We all have a disease or two: the illness of being lazy, the sickness of not helping our neighbor, or the disease of not listening to the Holy Spirit and acting like Jesus would act.
Steve's book is a series of daily reflections, not to be consumed too fast, but to be simmered and tasted many times. Let this book consume you, filter through you, and fill you with the reminders of what we believe and how life is much easier to filter through when we accept being embraced by God. We all need this book.
It is a book we all need to read more than once, and it is a book that will make our travels with Jesus easier, and more fruitful. I will use the "five things", the "self-question", and the "last time" at the end of each chapter frequently. They are great road signs for my toolbox that will help me and all of us empty ourselves in order to make room for God in the ordinary of our lives.
Another thing that did not surprise me about this book was Steve Givens' gentle way of presenting himself. His matter of fact style, along with his openness to his faith is what sparked me to write that email many mangers ago and remains true in this gem of a book.
- Bruce Burk (Deacon, reviewer, blogger)
Givens, in a short but meaty work, lays out how his faith has helped him through chemotherapy for an autoimmune disorder. Chapters are short (3-5 pages) and are to the point (how to deal with neuropathic pain of chemo or when a treatment has been difficult, how to stay the course) and end with three questions for the reader to ponder related to what has been written and a short prayer to help those who may find this helpful to focus.
Although this writing is targeted to an audience receiving potent medication with serious side effects, it crosses these barriers and can easily be a primer for a fuller faith based walk regardless of the circumstances the reader finds themself in.
- Cherie C. Binns, MSCN (Amazon Reviews)