Jan
15
From time to time, as both a writer and a spiritual director, I get asked for book recommendations. So on this cold and snowy Dr. Martin Luther King Jr. Holiday in the U.S., I stayed inside and scoured my shelves for ten books I would highly recommend, books that are both well-read and well-loved, books that have pointed me in different ways to the movement of God in my life, inspired me by their beauty and story, or have somehow appeared in my life just when I needed them most.
These are in no particular order, other than how I spied them on the shelf. You'll see quite a few in the realm of Ignatian spirituality, for it has been the life, work and legacy of that 16th century solider-turned-saint that has inspired and guided me most in the past few years.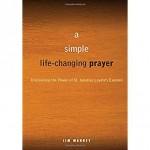 A Simple, Life-Changing Prayer: Discovering the Power of St. Ignatius Loyola's Examen, by Jim Manney (Loyola Press, 2011)
This is a short and powerful book, and I always keep a few on hand so I have one to give away to anyone who asks about how to get started in prayer. St. Ignatius' Examen is an ancient and life-changing prayer that encourages and guides us toward a more aware and grateful life, and Manney's book is a sensible guide to establishing awareness as the beginning of our prayer lives. Or anytime, really.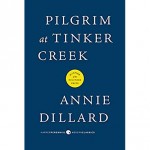 Pilgrim at Tinker Creek, by Annie Dillard (Harper & Row, 1974)
My copy of this classic memoir of a year spent observing the natural world in Virginia's Blue Ridge Valley is faded, marked and a bit dog-eared, but those are signs of an important book in my humble library. By watching closely, Dillard finds a world filled with astonishing incidents of "mystery, death, beauty and violence." Awarded the Pulitzer Prize in 1975, she had me with that great opening paragraph: "I used to have a cat, an old fighting tom, who would jump through the open window by my bed in the middle of the night and land on my chest….And some mornings I'd wake in daylight to find my body covered with paw prints in blood; I looked as though I'd been painted with roses." This is a book I need to revisit yet again soon for, while not religious in the traditional sense, it is a book that has again and again pointed me toward God. (And my thanks to my old friend and mentor Judi Linville for suggesting I read this book nearly 40 years ago.)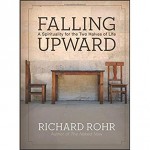 Falling Upward: A Spirituality for the Two Halves of Life, by Richard Rohr (Jossey Bass, 2011)
Rohr's guide to the "second half of life" has become a go-to book for many trying to discern what God might have in store for their later years. Rohr, the founder of the Center for Action and Contemplation, offers a new paradigm for looking at older age, one focused on emerging from the first half of life (filled as it is with gaining, earning and building) into a gentler time of "falling upward," of allowing our failings and weaknesses to usher us into a new era of spiritual growth.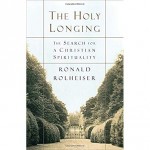 The Holy Longing: The Search for a Christian Spirituality, by Ronald Rolheiser (Doubleday, 1999)
This is one of the books that fell into my hands almost mystically, right when I needed it most, right when my brother was dying and I needed something to read in the waiting room. I could not have asked for a better companion. This is a great book for those beginning the search for a deeper spirituality, for this is a book that goes deep and lays out the "non-negotiables" of Christian spirituality — community worship, social action, the centrality of the Incarnation and the sustenance of spiritual life.
Mercy in the City: How to Feed the Hungry, Give Drink to the Thirsty, Visit the Imprisoned and Keep Your Day Job, by Kerry Webber (Loyola Press, 2014)
So often I look to my elders and peers for guidance and sage advice, but every once in a while I need a not-so-gentle reminder that wisdom very often comes from the young. In this thin volume, I found great insight and inspiration from a brilliant, young, very funny and busy New Yorker (and managing editor of America magazine) who decides to commit her 40 days of lent to practicing the corporal works of mercy in a city of 8 million souls. Easy, right?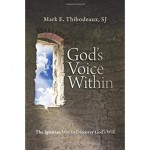 God's Voice Within: The Ignatian Way to Discover God's Will, by Mark Thibodeaux, SJ (Loyola Press, 2010) I spent about nine months with this book last year as part of a study group, and I have come to rely on it as a common-sense guide to the Ignatian decision-making process. Thibodeaux, a Jesuit novice master, clearly helps his readers understand how important it is to trust our own "thoughts, feelings and desires when it comes to discerning God's will." Thoughtfully organized to be useful and peppered with real-life stories of decisions gone right and wrong, this is a book for anyone trying to be more thoughtful about the many decisions that come our way every day.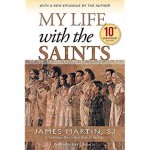 My Life with the Saints, by James Martin, SJ (Loyola Press, 2006)
Like one of Fr. Martin's other books that I frequently take out and re-read (Jesus: A Pilgrimage), "My Life with the Saints" is part memoir and part guidebook, drawing us into the lives of the saints (both canonized and non-canonized, from Peter and Mary to St. Ignatius and St. Thomas Aquinas to Thomas Merton and Dorothy Day). It's Martin's great storytelling that brings these individuals alive for us and allows them to guide us by example to holiness.
The Intimate Merton: His Life from His Journals, by Thomas Merton (Harper, 1999)
"Perhaps the Book of Life, in the end, is the book one has lived," Thomas Merton wrote in 1956. Many have read Merton's landmark memoir, The Seven Storey Mountain, the story of his coming to faith and to the monastic life, but this collection of journal entries over 29 years, culled from the seven volumes of his journals that have now been published, expands on his famous memoir and gives us a peek at the real and unedited Merton, a man often torn by the very discipline of monastic life that formed him. It is a book of both "confession and witness."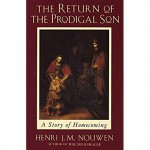 The Return of the Prodigal Son: A Story of Homecoming, by Henri J.M. Nouwen (Image, 1992)
In one of the most well-read and beloved books of 20th Christian spirituality, the Dutch priest and writer Henri Nouwen writes of his chance encounter with a reproduction of Rembrandt's masterpiece, The Return of the Prodigal Son, and the spiritual adventure that follows. This is a deep, beautiful and meaningful meditation on what it means to be loved unconditionally. For the 25th anniversary of its publication, it is currently being offered in a reissued and elegant hard-cover edition, but it's available in paperback, too.
Hidden Wings: Emerging from Troubled Times with New Hope and Deeper Wisdom, by Margaret Silf (Darton, Longman + Todd, 2017)
With the metaphor of the butterfly's transformation as the book's foundation, spiritual explorer and director Margaret Silf tells both the story of the butterfly (a spiritual journey itself into the mysteries of nature) and provides guidance for those "struggling to plot a spiritual path through this unfamiliar landscape, and to believe in a positive future." Like another of Silf's books that I reviewed a few years ago (Just Call Me Lopez: Getting to the Heart of Ignatius Loyola), Hidden Wings is a daring and creative take on the constant and ever-evolving presence and movement of God in our lives.