Mar
17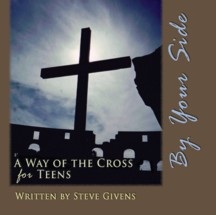 By Your Side: A Way of the Cross for Teens, just released this week, is a re-issue of an earlier publication as a booklet and musical/spoken word CD by ILP Music, produced by Vince Ambrosetti with music by Ruben Galabeas and Msgr. Michael Heras.
By Your Side is designed to be used in a number of ways. It is, first of all, to be used as a communal gathering where music, prayer and readings come together to create an enriching and reflective experience for those gathered. By Your Side has been created specifically for teenagers and young adults. Like all Stations of the Cross, its purpose is to reflect on the passion and death of Jesus Christ, allowing those gathered to walk along beside him to Calvary, while contemplating both his death and their own lives and faith.
Each station contains three elements: a short song, a reflection on the station, and a prayer that invites the participant to enter into the passion of Jesus and–more specifically–address an issue pertinent to the lives of young people today.  The reflections and prayers can either be read by a leader or in unison. But By Your Side can also be used as a personal guide to the Stations of the Cross and used by individuals as they make their way from station to station.
Here's a glimpse of the project, the seventh station:
Seventh Station: Jesus falls again
CONTINUING WITH CONFIDENCE
Sing:
By your side, you fall again.
By your side, you fall again.
Jesus, Lord, be ever near
As I walk, by your side.
Think:
Jesus has been wracked by pain, but has been comforted by the care of Simon and Veronica. He continues on his journey, feeling the rhythm of the road beneath his feet. As he falls again, all the pain is renewed. A jolt of agony shoots through his body. But he rises again and continues on his way. It is you he thinks about.
Pray:
Jesus, in this picture of you I see a man who knows what he has to do and, despite the obstacles and the pain, continues on the road with confidence. I don't have that kind of confidence, Lord. Sometimes I'm just not sure of myself. Some of the people in my life have given me confidence, but others have filled me with doubts about myself and my abilities. I wonder who's right? For some reason it's easier to believe those who have filled me with doubt. So help me, Lord, to see the good in myself. Give me the strength and confidence to tackle the challenges in my life. And, when everything seems too much too bear and I just want to give up, remind me of this picture of you, rising once more from the dusty road. Amen.
To order directly from ILP Music, just click here.